About Us

LETTER FROM THE FOUNDER
ClassActionRebates.com
1718 Peachtree Rd #380
Atlanta, GA 30309
Dear Friends,
We make getting class action rebates easier for consumers.
Class Action Lawsuits are supposed to be the great equalizer in the U.S. Legal system, letting individuals who were wronged band together to take on big companies. Class actions give consumers power to hold companies accountable for unlawful activities and are an important check-and-balance in our legal system.
But one growing problem in the class action system is that even though consumers are winning big cases, with settlements topping $10 billion in 2012, most victims never get compensated. There are three reasons why this happens:
First, settlements are poorly publicized so most affected consumers do not even know they are eligible. Second, directions are complex and poorly written, so figuring out if you are eligible, what you are likely to get, and how to file is difficult and time consuming. And finally, there is no interactivity, so if you need help you are basically out of luck.
The result is that the vast majority of affected consumers never file class action claim forms, and as a result do not receive anything. Even more toxic, consumers are denied the opportunity to participate in the process, and so the class action system has become run by lawyers, for lawyers.
The extent of the problem hit home for me when I realized that even I never file for class action rebates. Despite my having a law degree and my having experience as a class action administrator, even I find the whole thing so cumbersome that it isn't worth my time to collect money that I know is owed to me. When I surveyed my friends and family, I couldn't find a single person I know that files for their class action rebates.
We want to fix this problem by addressing these issues of awareness, complexity, and lack of interactivity. ClassActionRebates.com is a platform for consumers to access all open class action rebates. At a glance consumers can see a list of open class action rebates, what the settlement provides, filing requirements, how long it takes to file, and a link to the claim form.
Our aim is to be a one-stop-shop where consumers can come once a quarter, check if they are eligible for any settlements, and file their claims in just a couple of minutes. And if you subscribe to our newsletter, we will send new settlements to your inbox once a month. Simply put, we want to make filing your class action rebates easy.
We hope you find this site useful. Let us know if you have any questions, or suggestions on how to make the site better at info@classactionrebates.com.
Your sincerely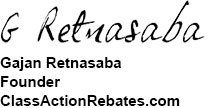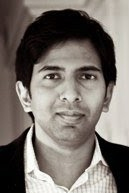 Gajan has served as a class action administrator, experiencing first-hand how ineffectual the claims process is for consumers.
A graduate of Harvard Law School, his professional experience includes stints at McKinsey & Company and Jones Day.
Personal projects include BabySignLanguage.com, a popular resource for teaching pre-verbal kids.
ClassActionRebates.com provides information on open class action settlements. We organize, synthesize, and publicize class action information to make filing class action claims more accessible to ordinary consumers. Simply put, our mission is to make filing class action rebates easy.