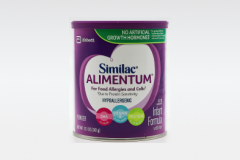 Similac Infant Formula Settlement
Class Eligibility
You may be a Class Member if you are a single-family resident of the United States who purchased for personal use (i.e., not for resale) at least one or more specific Abbott Laboratories Infant Formula (Similac) products between June 24, 2016 and September 22, 2022. Click on
this link
for the list of specific products included in this Settlement.
Case Name
Ramsey-Standage v. Abbott Laboratories
Circuit Court of Phelps County, Missouri
Case No. 22PH-CV00853
Case Summary
A class action lawsuit (the "lawsuit") called Ramsey-Standage v. Abbott Laboratories, pending in Phelps County Circuit Court, Missouri, claimes that:
(1) the Label on certain Abbott Laboratories infant formula Products says the Products can make a specified number of liquid 4-ounce formula bottles, yet
(2) the Products do not always yield the suggested number of 4-ounce bottles of liquid formula even if consumers follow the "Instructions for Preparation & Use" on the Label.
Abbott Laboratories denies these allegations, asserting its labeling and marketing are completely accurate and true and its Products yield the number of 4-ounce liquid formula bottles represented on the Label. However, to avoid further litigation and redirection of company resources, Abbott Laboratories has decided to settle this case.

Settlement Pool
$19,500,000.00
Contact
Mail: Ramsey-Standage v. Abbott Laboratories
c/o Kroll Settlement Administration LLC
PO Box 225391
New York, NY 10150-5391
Email: info@anservingsettlement.com
Call: 833-512-2302
Filing a Claim
It is necessary to submit your Claim Form online ON or BEFORE January 31, 2023, or mail your completed paper Claim Form early so that it is RECEIVED ON or BEFORE January 31, 2023. Click below to File Your Claim.
file claim
No updates yet
Claim Your Cash Every Week!
Subscribe to our free newsletter right now.